Finding The Right Pre-Walker and First Walker Shoe for Baby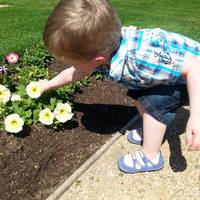 Finding the right pre-walker and first walker shoe for your baby can be one of the most challenging accessories to buy. You want the best for your child, but you don't want to spend too much on a pair of shoes they may grow out of in 3 months' time. But, the wrong shoe can bring long term damage to your child's foot and posture and create problems in the future.
So, how much is too much and what is the right shoe for my child?
In Australia, a pre-walker and first walker shoe can cost you anywhere from $10 - $80. So why the huge gap? As with anything, the better the quality the higher the price tag (almost!). In shoes, it can be a little different. A pair of Mini Melissa shoes for example will set you back a tidy $79.95, but they are not made from leather, they are not made with a soft sole and they are not designed to mould to your childs foot. In this instance, you are paying for the very cute and unique design and brand name. Gorgeous yes, but not necessarily the best choice for a young developing foot. Generally in Australia, a good pre-walker will set you back between $30 - $45 and a good First Walker will be anywhere from $30 - $60 with most settling in the $40-$50 price range. A moccasin shoe will be around the $20-$30 price point.
What to look for in a good pre-walker and first walker shoe.
Firstly, you will need a shoe with a soft sole - this is recommended by Podiatrists and Specialists world-wide. A soft sole is usually made from suede or leather or a soft flexible rubber (or a combination of all) which allows your baby to feel the ground whilst learning to walk and keeps their foot in a natural walking position. Barefoot is best for new walkers; however this is not always practical, so a proper fitting, moulded sole is the way to go. Most pre-walker shoes that are Podiatrist recommended are soft sole moccasin-style shoes as shown. They are easy to slip on, will not restrict your baby's foot and they are just like socks, only better! Some cheaper shoes will claim soft sole with a PVC or similar sole, these are plastic shoes and will not last (trust me on that one!) and will not help your child grip the floor or their foot to breathe.
Secondly, the material the shoe is made out of is hugely important as well. A good pre-walker or first walker shoe will usually be made out of leather or breathable material. Baby feet can sweat and overheat, so a natural breathable substance like leather will help their foot to breathe and will also allow for movement and give. Canvas shoes, whilst practical, do not breathe or allow for stretch and movement, so again, not the best choice if it can be avoided.
Thirdly, a flexible shoe is one that will bend over on itself. If the sole cannot bend and touch itself, it is not a true soft sole shoe. The flexibility of the sole is important as it will mould with your child's foot and not restrict the natural levered movement. You will know yourself, a surfboard rubber sole is not that comfortable to walk in, even as adults.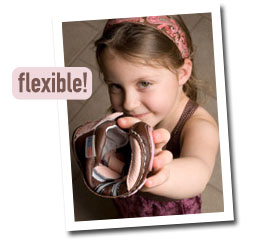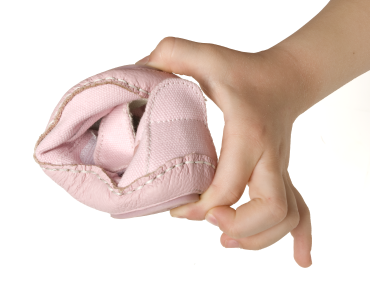 So, how did I come to know all these idle facts about baby shoes? I have been there done that and bought the t-shirt! My son went through several pairs of shoes before I found the right ones that I was happy with and confident to share with you!
Please feel free to stop by and see what we have on offer in Pre-Walker and First Walker shoes at Cute To Boot. I am always here to help and as you can see, WE LOVE SHOES!
Our sizing guide and 'How to Measure Your Child's Foot' is also a handy tool!
Also, feel free to join our community via our Newsletter. And here's a HINT HINT for you... there will be a PRE-ORDER coming soon for our My Mocs Collection! SUBSCRIBE HERE! And be the first to know!
Have you been wondering where to get Jack & Lily My Mocs in Australia? Did you see the editorial in Babyology and think I need those for my new little walker? READ BABYOLOGY'S MY MOCS EDITORIAL HERE!
Happy Shopping!
Belinda xx
---
Leave a comment