Nappy Bags? 10 Reasons Why They Should Be Called Just For Mum Bags
Author: Belinda Owen Date Posted:2 July 2015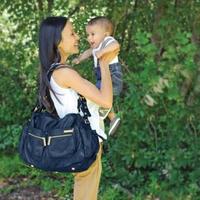 10 reasons why they should be called Just-For-Mum Bags and not Nappy Bags!
Nappy Bags, Diaper Bags, Baby Bags, Bottle Bags...? Whatever you call them, there is no doubting they are one of the most important purchases a new Mum can make. They will hold everything you will ever need and everything you didn't realise you ever needed from the time your baby arrives until long after the nappies are gone (yep, you will be surprised what your toilet trained toddler still needs!).
But why do we call them a Nappy Bag? It sounds so unflattering and as a new Mum, the last thing you want is another reminder that it is all about your baby. Please, don't get me wrong, we all love our babies to the moon and back, but we still need something for ourselves to remind us we are still women.
We'll call them Just-For-Mum Bags… ok, it's not "Gucci", but a reminder that the bag is all about you, because after all, everything that goes in there is just for you... your phone, your purse, your keys, your afternoon chocolate bar sugar hit... and, let's face it, everything "for bub" is in fact the lifesaver for you!
Don't believe me, here's the proof:
1. The bottle – One of the first things to make it into the bag, the bottle is a must so you can get that extra coffee in with your friend before heading home to face the domestic duties again.
2. The dummy – to comfort bubs and give you some quiet time when they are screaming for said bottle.
3. The nappies – Of course, that is after all what the bag is really for, but it is also so you don't have to put up with "that" smell.
4. The change of clothes - so people don't think you let your baby leave the house looking like that!
5. The change mat - because who knows when the public change table was last wiped down.
6. The wipes - because that last cup of coffee you had while feeding bubs ended up on you!
7. The second change of clothes - refer to number 6!
8. The hand sanitiser - because there is never any soap in the public bathrooms!
9. The teddy bear – because you have better things to do than go into Target for the umpteenth time to get yet another stuffed toy!
10. A spare blanket or pram-cover – because sometimes 2 changes of clothes just aren't enough and you might need to hide bubs while you rush back to the car!
So, with all that said and done… I think we can safely say that your Nappy Bag is just for you! So, fill your Just-For-Mum Bag with all the necessities listed above and welcome to the land of motherhood!
What is your favourite Just-For-Mum Bag? What was your must have item in there? We would love to hear!
Good Luck and Keep Smiling!
Belinda xx
---
Comments (1)
Wish I looked around a bit more!

When I was looking for nappy bags I didn't really realise there were so many to chose from and so many "cool" ones out there. I just bought a Gr8x from Baby Bunting and it has worked just fine, but I wish I looked around a bit more for one that looks a little more trendy and can be used longer than just when baby is a baby.
---
Leave a comment