Featuring....Cute to Boot Angels
Author: Toni Cochran Date Posted:24 July 2017


Pre Walkers · Early Walkers · First Shoes .
Our Shoes are our own brand and Australian designed, with major consideration given to the health and podiatry needs of children underpinned by an influence of the latest worldwide trends in fashion for Babies and Toddlers.
Flat, lightweight, flexible soles to mimic barefoot walking. Hand-crafted with breathable, finest quality soft genuine suede leather upper and outer , Making them snug and cozy with soft pigskin sole cushioning. All materials are premium and non toxic.
Our shoe line is super-flexible and absolutely perfect for growing feet.. Designed with age and stage 6 to 12 months, 12 to 18 months and 18 to 24 months total comfort.
Providing as much safety as they do comfort, shoes offer both form and stability.Whilst the velcro tabs make it easy to put the shoes on, and take them off for parents in a hurry.The good secure fit the velcro tabs provide can also prevent injury as a toddler learns to walk with no difficult and dangerous laces or buckles.
What are the benefits of the product?
1. Handcrafted from soft, high quality genuine suede leather to allow feet to breathe and grow naturally.
2. Allowing babies to wear genuine high quality soft suede leather soft soled shoes helps the foot to grow normally and promotes the grasping action of the toe.
3. Lightweight soft soles are less likely to inhibit abilities to walk.
4. Soft soles allow children to extend their toes and grip the floor as if they were walking barefoot.
5. Soft sole shoes can also help children improve their balance and coordination as they grow.
Sizing
6 - 12 Months- Inner sole measures 12.2cm
12 - 18 Months- Inner sole measures 13.5cm
18 - 24 Months- Inner sole measures 14cm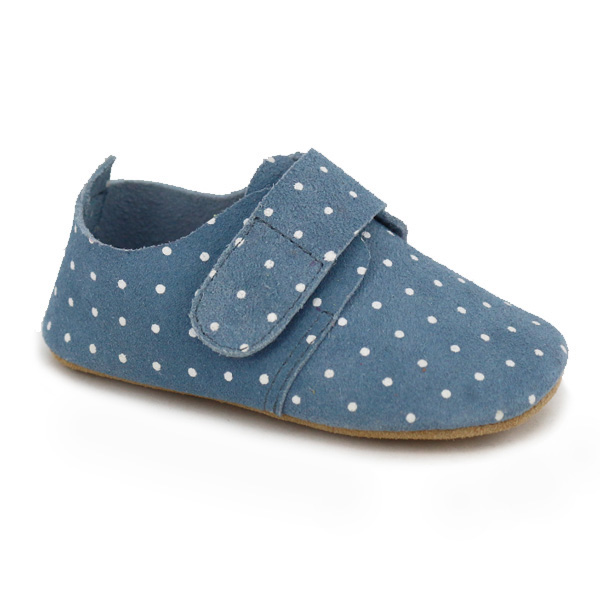 ---
Leave a comment